Welcome!
I am a Certified Advertising Specialist (CAS). I'm not a product peddler like many in this business are. I'm devoted to both my customers and the industry so I sought out and achieved this certification so that I can be a benefit to you.
So what does this mean to you??? Well, I am a Consultant.
I consult with businesses and organizations to develop a plan to promote their products and services, recognize their employees, volunteers, and thank their clients or customers with quality logoed merchandise.
I will help you use your advertising dollars wisely. I will set down with you and we will discuss what your end goal is. Once we know that, we'll work backwards towards a product or program that will fit your need. It's not a one size fits all option with me.
I'm here for you to make sure you're spending your advertising budget in a way that you will get the most out of it.
Featured Item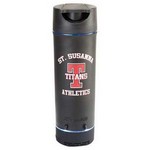 Zoom® Audio Flask
The Zoom® Audio Flask rocks out with an 18 oz. capacity to keep you hydrated. It boasts a removable, light-up, Bluetooth speaker that blasts your favorite soundtrack to keep you motivated and supports...